We all love Cole! Hij speelt in Riverdale AKA onze fave serie ever én ziet er mega gorge uit. Als het kon, waren we al lang met de boy getrouwd zodat we elke dag met hem konden zijn… Okay, dus waar waren we? Oja, Cole! Om de rest van de wereld ook te overtuigen dat hij amazing is, hebben we wat perfecte puntjes op een rijtje gezet!
1. Looks
Natuuuurlijk beginnen we bij zijn looks! Want deze zijn echt a-ma-zing!
2. Funny
FUN! Cole heeft niet alleen zijn personal Insta, maar ook het account Camera_duels! Hierin post hij foto's van fans die een foto van hem maken. Is hij de grappigste boy ever of is hij de grappiste boy ever?
3. Fotograaf
Hij is niet alleen een amazing acteur, maar ook een supergoede fotograaf! Cole heeft zelfs een keer girlcrush Kendall gefotografeerd!
4. Riverdale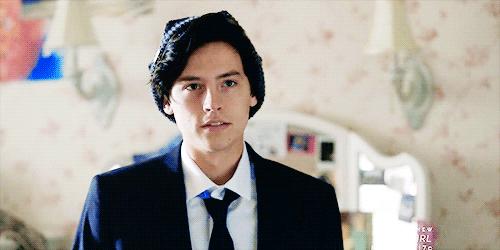 Natuuuurlijk vergeten we Cole in Riverdale niet! Want, TBH, Jughead is een van de redenen waarom we naar de serie kijken…
5. Twitter
I only started acting again so you guys wouldn't feel like you wasted money on the posters of me at 12.

— Cole M. Sprouse (@colesprouse) April 2, 2017
Cole is, by far, de beste celeb EVER op Twitter! Hij heeft zelfspot en is grappig. Wat wil je nog meer?
Okay, omdat wij de slechtste niet zijn, hier nog wat awesome tweets van de boy!
CUTE
Photographer captured a photo after they told me I was beautiful. pic.twitter.com/lUQ54HKpSJ

— Cole M. Sprouse (@colesprouse) January 27, 2017
HAHAH!
I'm not that little girl from Disney anymore. I'm a full grown woman now.

— Cole M. Sprouse (@colesprouse) July 24, 2016
We volunteer!
McDonald's valentines menu sucks tbh. Looks like my cats and I will take our business elsewhere.

— Cole M. Sprouse (@colesprouse) February 14, 2017
#Friendshipgoals
— Cole M. Sprouse (@colesprouse) August 7, 2015
Cole, we love you!
LEES OOK: Test it: Welke Sprouse twin is jouw soulmate?
Beeld: BrunoPress, Instagram (colesprouse)